Green Journeys members care about preserving the natural beauty and biodiversity of the areas they live in. Here are some of the projects our members support:
---
In 2009 Encounter Kaikoura formed a charitable trust and named it the Encounter Foundation. The objective of the Foundation is to support or initiate projects that primarily enhance the natural environment, both locally and further afield. The accumulated funds are donated to deserving projects as determined by the Foundation Trustees. By participating in the Encounter Kaikoura tours, each and every customer is assisting in protecting our very special natural environment.
---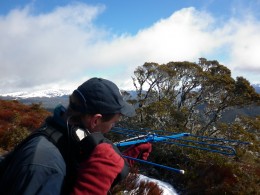 Peter Adams (ex Chairman of Friends of Flora) and Clare, owners of The Resurgence are frequent visitors up Mt Arthur in the Kahurangi National Park over the winter months.Friends of Flora is a dedicated group of individuals in the Motueka & Nelson areas committed to restoring the bio-diversity of an area in the Kahurangi National Park. After 12 years of predator control, blue duck, whio, have been successfully re-introduced and the first baby kiwi hatched in December 2012.Former Prime Minister, Helen Clark, is patron of Friends of Flora.Peter is pictured here listening to a kiwi-message which tells him where the bird is and how long he has spent foraging over the previous 14 nights.Autumn 2013, 20 adult kiwi have been relocated from unprotected areas of the Kahurangi to increase the gene pool and create a sustainable population of kiwis in the Flora catchment area.
---
Trees for Canterbury is strongly linked to the local community, providing environmental education, providing native plants and undertaking planting's with community organisations and schools throughout Canterbury.
---
The West Coast Blue Penguin Trust was formed in 2006 by local residents concerned at the decline in blue penguin populations. Its aim is to understand and conserve penguins and seabirds through research, practical projects, education and advocacy. Penguins need protection from traffic, dogs, predators, development and other pressures.
Andre has been a DOC volunteer since 2006. This involves one day a fortnight volunteering in a variety of DOC tasks. Such as native bird counts including Blue Penguins, planting native plants in public spaces, track maintenance. Historic relic recovery and maintenance.
---
Mou Waho Island Native Tree Planting supported by Eco Wanaka Adventures
We at Eco Wanaka Adventures are passionate about the natural environment in our region and our tree planting project on Mou Waho Island allows our clients to reduce their carbon footprint in a fun way, enhance the island as well as their experience of visiting this unique nature reserve. Eco Wanaka Adventures plants a native tree on every Lake Cruise & Island Nature Walk trip we take to Mou Waho Island, which is a predator free nature reserve situated in Lake Wanaka. We source our trees mainly from the Te Kakano Aotearoa Trust, a Wanaka based non-profit Native Plant Nursery. We also have a number of tree planting days throughout the year when we take volunteers to the island in conjunction with The Department of Conservation, Forest & Bird and Te Kakano Aotearoa Trust and have planted in excess of 4,000 trees to date on the island. Eco Wanaka Adventures have been Finalists for a Conservation award for this tree planting project.
---